What Better Way To Kick Off a Classic?
Aside from crafting exquisitely animated films with stories and characters that manage to hit way too close to him, Disney and Pixar also have a great track record when it comes to opening songs. Out of their numerous hits, these five remain classics in the minds of moviegoers everywhere!
#5: "You've Got a Friend in Me"
"Toy Story" (1995)
Much like "Tarzan," "Toy Story" isn't a conventional musical, but the filmmakers still frequently use music to convey the characters' emotions. Written and sung by Randy Newman, "You've Got a Friend in Me" establishes the bond between young Andy and cowboy doll Woody. By the end of the picture, though, the song can just as easily apply to the newfound friendship between Woody and Buzz Lightyear. In any case, the song encompasses the carefree days of childhood and the nostalgic sentiment we all feel towards the toys from our youth. This Oscar-nominated tune would go on to play a crucial role in the "Toy Story" sequels, but it all stems back to this delightful opening.
#4: "The Bells of Notre Dame"
"The Hunchback of Notre Dame" (1996)
Disney's take on "The Hunchback of Notre Dame" isn't as grim as Victor Hugo's classic novel, but still gets away with some shocking material for a G-rated flick. The opening hits just the right note, walking a tightrope between brooding and triumphant. Chronicling how the corrupt Judge Frollo murdered an innocent gypsy and took in her deformed son, this may be the darkest intro in Disney's repertoire. Yet, the song completely sucks the audience in with its heavy drama, haunting imagery, and stirring choir. With an operatic ambiance that brings great gravitas to each note, composer Alan Menken cited "The Bells of Notre Dame" as "possibly the best opening number [he's] ever written for any project."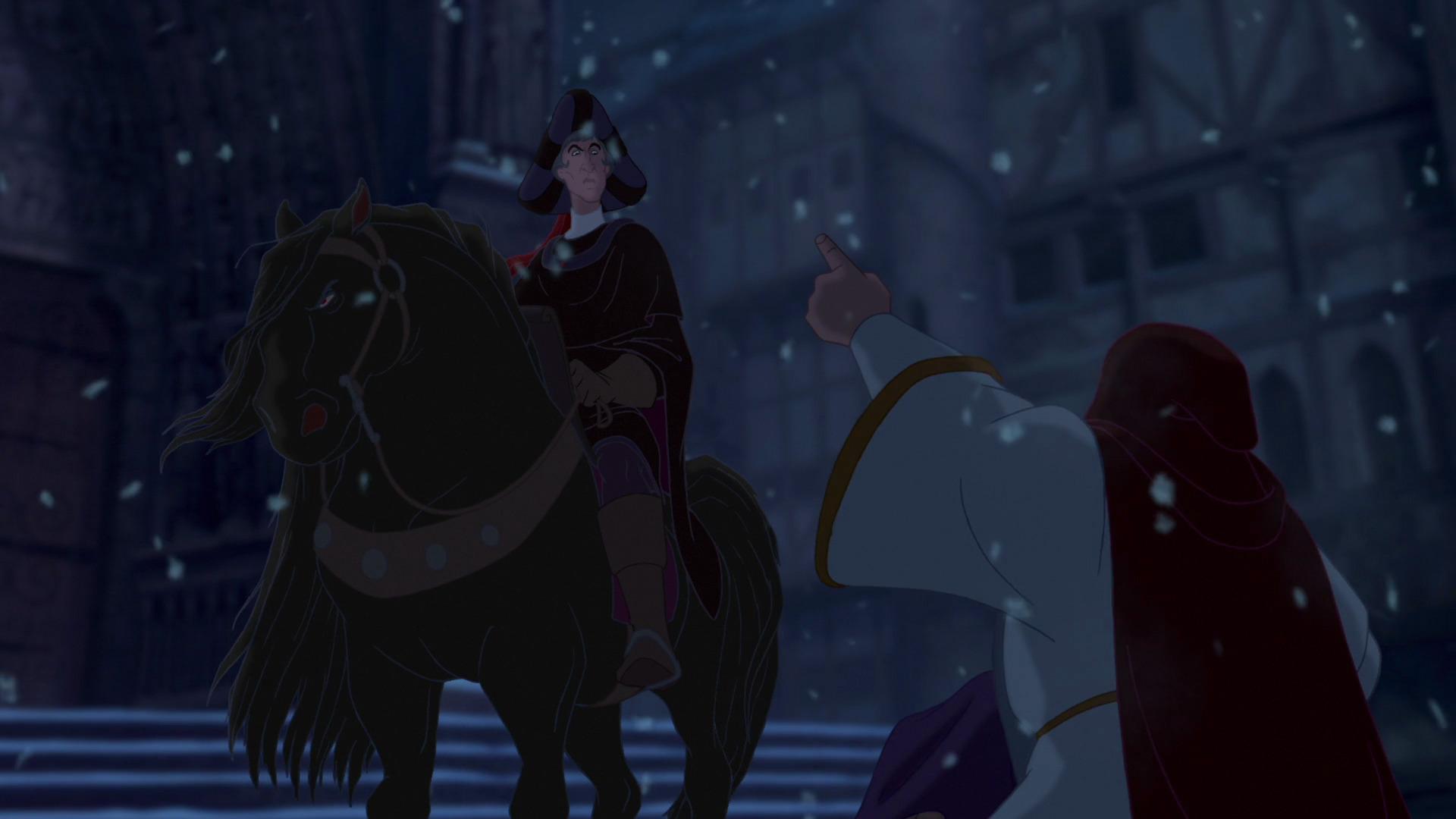 #3: "When You Wish Upon a Star"
"Pinocchio" (1940)
"When You Wish Upon a Star" is not only the first song in "Pinocchio," but also the first Disney song to win an Academy Award, in time becoming a trademark for the House of Mouse. Written by Leigh Harline and Ned Washington, this iconic song embodies the film's message of never giving up on your dreams and finding the strength to persevere even when all hope seems lost. If there's one downside to this intro, it's that the song is mostly accompanied by a simple credits sequence without anything very visually interesting. Whenever we hear the song, however, we can always envision a shimmering star up above, providing audiences everywhere a symbol of faith.
#2: "Belle"
"Beauty and the Beast" (1991)
A narrator and gallery of stained glass windows provide the Beast's backstory, but this remarkable opening number introduces us to the film's titular "Beauty". Book smart and beautiful, Belle may stand out as an oddity to everyone else in town, but this doesn't discourage her. In addition to establishing our leading lady and her desire for more out of life, the song also acts as an introduction to the villainous Gaston, who wishes to marry Belle based on her looks alone. The song might be about a single character, but "Belle" is truly an ensemble piece that sets the film's Broadway-style tone, earning comparison to the openings from various classic stage musicals.
#1: "Circle of Life"
"The Lion King" (1994)
Not every musical opens with a show-stopper, but "Circle of Life" is a number that'll have the audience dead silent throughout and then applauding uproariously following the final note. Showcasing some of the most breathtaking animation Disney has ever produced, the intro is full of unforgettable imagery as the animal kingdom gathers around Pride Rock for the unveiling of lion cub Simba. The sequence is only made more memorable due to Elton John's enthralling music and Tim Rice's inspiring lyrics, conveying the cycle that unites all living creatures together. Adding another layer of depth, the film also closes with this song, bringing Simba's journey full circle.
Be sure to check out the video below to see our picks for the Top 10 Deleted Disney Songs You Need to Hear.