Top 10 Younger Versions of Characters in Movies

Script written by Nick Spake Ah, youth. Welcome to WatchMojo.com and today we'll be counting down our picks for the Top 10 Younger Versions of Characters in Movies. For this list, we're taking a look at the best performances by actors who play a character during the younger years of their life. To qualify for this countdown, the younger character must exist within the same timeline as their older self. Special thanks to our users Kaio Scott or submitting the idea using our interactive suggestion tool at WatchMojo.com/suggest
VIDEO SCRIPT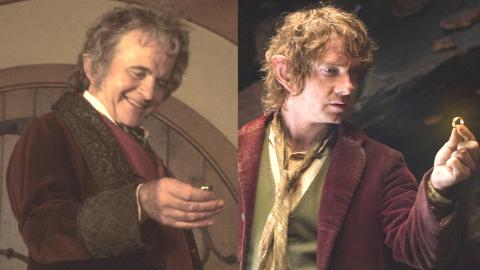 Top 10 Younger Versions of Characters in Movies
Script written by Nick Spake
Top 10 Younger Versions of Characters in Movies
Ah, youth. Welcome to WatchMojo.com and today we'll be counting down our picks for the Top 10 Younger Versions of Characters in Movies.
For this list, we're taking a look at the best performances by actors who play a character during the younger years of their life. To qualify for this countdown, the younger character must exist within the same timeline as their older self. We've also excluded performances from biopics, like Paul Dano as Brian Wilson in "Love & Mercy." Since we'll be discussing the evolution of these characters, a spoiler alert may be in order.
#10: Josh Brolin as Agent K
"Men in Black 3" (2012)
It took a long time for "Men in Black 3" to finally hit theaters. So long that Tommy Lee Jones arguably got too old for the alien hunting game. Fortunately, this third outing cooked up a brilliant premise in which Will Smith's Agent J travels back in time and meets a younger version of Agent K, played by Josh Brolin. Aside from looking and sounding just like Jones, Brolin flawlessly captured the character's straight-faced, no-nonsense charm. On top of that, he shared impeccable chemistry with his co-star, as if he and Smith had been working together for years. 
#9: Kate Winslet as Rose DeWitt Bukater
"Titanic" (1997)
Just as Kate Winslet and Judi Dench received Oscar nominations for portraying (xref) Iris Murdoch, Winslet and Gloria Stuart were both recognized by the Academy for playing Rose in "Titanic." Now only a memory of her older self, young Rose is an aristocratic lady who discovers true love on the doomed voyage. Winslet brings great depth to her most iconic role, evolving from a frightened, repressed girl to a brave, resilient woman who risks everything for the man she's given her heart to. Even if our lovers don't live happily ever after, Rose emerges from the tragedy as a stronger person who will go on. 
#8: Saoirse Ronan as Briony Tallis
"Atonement" (2007)
Although billed as a supporting player, Saoirse Ronan's Briony is the true star of this movie. In her breakout role, the 12-year-old Ronan asserted herself as a rising star with unlimited potential. Deceitful, manipulative, jealous, and not nearly as innocent as she looks, Briony at times feels like a Shakespearean villain. Driving two lovers apart out of spite, she goes through life concealing a dark secret. Romola Garai plays her as a teenager, but its Vanessa Redgrave's elderly Briony who brings the character full circle. Without giving too much away, Briony ultimately looks back on her past decisions with great regret, forever seeking atonement.
#7: Mackenzie Foy as Murph
"Interstellar" (2014)
Just as Murph is a child who's gifted beyond her years, Mackenzie Foy is an actress who shows great talent at such a young age. The father/daughter relationship between Cooper and Murph provides "Interstellar" with a heart. It's nothing short of devastating when Murph is forced to watch her father leave Earth. We also dare you not to tear up when Cooper receives a message from Murph, who grows up to become Jessica Chastain. In the end, Cooper gets to see his daughter one last time as an elderly lady, played by Ellen Burstyn. While all three actresses are wonderful, it's Foy who immediately forges the connection between daughter, father and audience.
#6: Martin Freeman as Bilbo Baggins
"The Hobbit" trilogy (2012-14)
The adventures of Bilbo Baggins were only hinted at in "The Lord of the Rings" trilogy where Ian Holm played the character in his twilight years. The hobbit's journeys are depicted in great detail throughout this prequel trilogy, which is primarily driven by Martin Freeman's portrayal of Bilbo. Although initially reluctant to leave his cozy home in the Shire, Bilbo eventually decides to join a quest to the Lonely Mountain. Along the way, the apprehensive Hobbit evolves into a confident traveler and a voice of reason. All the while, Freeman acts as a likable, endearing presence.
#5: Zachary Quinto as Spock
"Star Trek" franchise (1966-)
When it was announced that "Star Trek" would be rebooted, fans were skeptical about the next generation of actors. Fortunately, the new Starship Enterprise crew had a marvelous cast across the board, especially Zachary Quinto's Mr. Spock. Quinto maintains the character's logical mindset while also bringing a surprising amount of humanity to the half-human, half-Vulcan, making the role his own. Through time travel, Quinto'syounger Spock is even able to share a couple moments with Spock Prime, played by the great Leonard Nimoy. Although Nimoy's passing saddened us all, it's comforting to know that the character has been left in good hands.
#4: Ewan McGregor as Obi-Wan Kenobi
"Star Wars" franchise (1977-)
There's really not a ton to enjoy about the "Star Wars" prequels, but Ewan McGregor's Obi-Wan Kenobi is definitely a force to be reckoned with. Like Alec Guinness before him, McGregor encompasses all of the character's wisdom and strength. At the same time, we get to see Obi-Wan in a different light as he matures from an eager Padawan to an insightful Jedi. Despite getting stuck with a horrible line of dialogue every once and a while, McGregor never hits a false note. Charismatic, dignified, and occasionally humorous, he lives and breathes Obi-Wan.
#3: Joseph Gordon-Levitt as Joe
"Looper" (2012)
Joseph Gordon-Levitt and Bruce Willis don't really look like each other, even with special makeup effects. Yet, you never doubt that these two are the same person in "Looper." As Joe, Gordon-Levitt plays an assassin who only looks out for numero uno. Joe is assigned to kill his future self, who has been sent back in time and has everything to lose. Although neither is necessarily a good guy, we empathize with both theyounger and older versions of Joe. Gordon-Levitt in particular shows significant range as he transitions from a selfish loner to a man willing to jeopardize his own future for others.
#2: Michael Fassbender as Erik Lehnsherr /Magneto
"X-Men" franchise (2000-)
Long before Charles Xavier and Erik Lehnsherr were enemies, they were the closest of allies. While (xref)James McAvoy hit it out of the park as a young Professor X, Michael Fassbender fashioned Magneto into an even more complex, multi-layered character. Aside from bringing out the metallic mutant's menacing side, Fassbender also portrays Erik as a caring friend and an authoritative mentor. At times we even see glimpses of a man who could improve the world with his powers. Alas, he can't overcome his hatred for humanity or lust for vengeance. 
Before we get to our top pick, here are a few honorable mentions:
River Phoenix as Indiana Jones 
"Indiana Jones and The Last Crusade" (1989)
Ryan Gosling as Noah
"The Notebook" (2004)
Mayim Bialik as CC Bloom
"Beaches" (1988) 
David Moscow as Josh Baskin
"Big" (1988)  
#1: Robert De Niro as Don Vito Corleone
"The Godfather: Part II" (1974)
"The Godfather" was certainly a tough act to follow. Not only is the film itself considered a classic, but Marlon Brando delivered one of the greatest performances of all time as Vito Corleone. Yet, this sequel nearly surpassed its predecessor, as did Robert De Niro's Oscar-winning performance as a young Vito. De Niro masterfully embodies this character as he progresses from a lowly immigrant struggling to make ends meet to the most powerful man in New York. These flashbacks are perfectly complimented by the scenes in present day as Vito's son Michael reins as the new head of the family. 
Do you agree with our list? What's your favorite younger portrayal of a character? For more entertaining Top 10s published every day, be sure to subscribe to WatchMojo.com.