Top 10 Movie Druggies

Script written by Nick Spake. For these people, every day is a psychedelic experience. Join WatchMojo.com as we count down our picks for the top 10 movie druggies. For this list, we're taking a look at cinema's most entertaining characters that regularly use illegal drugs, be it crack, smack, dope, coke, or any of that other good stuff. Not that we condone that kinda thing. Special thanks to our users roxy, Andrew A. Dennison, 25billionaire, Griffin Edwards, TheDude, Jared32434 and Awesome One for submitting the idea on our Suggestions Page at WatchMojo.com/suggest
COMMUNITY
VIDEO SCRIPT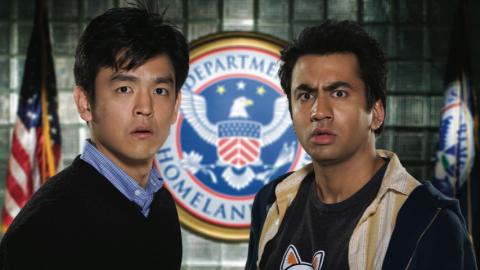 Top 10 Movie Druggies
Script written by Nick Spake.
Top 10 Movie Druggies
For these people, every day is a psychedelic experience. Welcome to WatchMojo.com, and today we're counting down our picks for the top 10 movie druggies.
For this list, we're taking a look at cinema's most entertaining characters that regularly use illegal drugs, be it crack, smack, dope, coke, or any of that other good stuff. Not that we condone that kinda thing.
#10: Thurgood Jenkins
"Half Baked" (1998)
Being a self-proclaimed pot enthusiast, it's only natural that Dave Chappelle would make his leading man debut in this cult stoner comedy. Thurgood Jenkins is a deadbeat loser, but at least he has plenty of weed and good buddies to smoke it with. When one of his friends lands in the slammer, Thurgood's menial existence is suddenly given purpose as he attempts to fundraise bail money by selling marijuana. Along the way, he learns that there's more to life than Mary Jane, like his girlfriend ironically named Mary Jane Potman.
#9: Jordan Belfort
"The Wolf of Wall Street" (2013)
Leading men addicted to drugs and power is one of the many trademarks of Martin Scorsese's movies. The best example is Jordan Belfort, a stockbroker who chugs down Quaaludes like they're candy. Jordan has taken so many drugs that he can barely tell the difference between reality and his delusions. His perception of a slow drive home can just as easily be a hit-and-run in real life. While "The Wolf of Wall Street" might not be 100% accurate, it is completely true to Jordan's drug-induced vision of his mad life.
#8: Saul Silver
"Pineapple Express" (2008)
Saul is as laidback as stoners come. With way too much free time on his hands, he spends all day in his pajamas, selling pot and setting up teepees on his bed. His relaxed, low-functioning nature perfectly complements his customer slash best friend Dale Denton, who's just as lazy and incompetent, but slightly more level-headed. Saul might seem like more trouble than he's worth, getting mixed up with corrupt cops and lethal drug lords. But any life-threatening scenario is a blast, though, with this this fun-loving druggie by your side.
#7: Harry Goldfarb
"Requiem for a Dream" (2000)
Like many addicts, Harry walks a fine line between reality and paranoid misconceptions. His character definitely puts an emphasis on the dark side of a druggie lifestyle. The more reliant Harry becomes on heroin, the more uncertain, dizzy, and desperate his state of mind becomes. Along with the film's other three main characters, his world gradually shifts into a nightmare he can't wake up from. As glamorous and fun as drugs may appear, Harry's cautionary tale shows us just how easily they can be a descent into hell.
#6: George Jung
"Blow" (2001)
Want to get ahead in the world without getting a real job? Then maybe you should consider a career in dealing dope and smuggling cocaine. It worked out great for George Jung...well not really. Ashamed of his poor upbringing, this longhaired Blondie sees the drug business as an easy route to the American Dream. Through charms, street smarts, and salesmanship, he manages to get on top. George eventually finds, though, that this lifestyle can be full of highs, but it's also full of lows.
#5: Harold Lee & Kumar Patel
"Harold & Kumar" franchise (2004-)
This hard-working Korean American and irresponsible Indian American's zany misadventures started with a car ride to White Castle. Somehow, that simple road trip to satisfy their munchies escalated into a fiasco involving a freaky tow-truck driver and an escaped cheetah. The two have gotten into even crazier shenanigans over the years, landing in Guantanamo Bay and shooting Santa Claus. No matter where their drug trips take them, though, you can always count on Harold and Kumar's movies to be full of profanity, nudity, violence, and fellow druggie Neil Patrick Harris.
#4: Mark 'Rent Boy' Renton
"Trainspotting" (1996)
This dark British comedy demonstrates the side effects of drug addiction both from a comedic standpoint and a tragic standpoint. Tired of his life consumed by heroin and toilet diving, Mark Renton is convinced he can get off junk for good. As you can imagine, however, it doesn't take long for him to fall back into old habits. Renton's life is one of the most disturbing, if not disgusting, representations of an addict. While his journey is certainly a weird and surreal one, that's just part of the road to sobriety.
#3: Jay & Silent Bob
"View Askewniverse" (1994-)
These drug dealers are a common thread in Kevin Smith's View Askewniverse, having supporting roles in several of his films and even scoring their own spinoff movie. While Smith's Silent Bob rarely says anything, Jason Mewes' Jay shoots his foul mouth off enough for both of them. On an easygoing day, Jay and Silent Bob can be found selling drugs in front of a Quick Stop or in a mall. On an active day, they'll be stealing monkeys and preventing the apocalypse. In any case, everyday ends with Snoochie Boochies.
#2: Raoul Duke
"Fear and Loathing in Las Vegas" (1998)
This whole movie is a giant acid trip and at the center of it is Raoul Duke, a hyperactive journalist manically narrating his life. With a cigarette holder fixed in his mouth and a suitcase of drugs, Raoul sets out on a hallucinogenic voyage full of bizarre imagery. This guy's so out of touch with his surroundings that he doesn't even know when he's thinking to himself and when he's speaking aloud. If there was ever somebody who epitomized all the insanity, confusion, and paranoia associated with Vegas, it's him.
Before we light up our top pick, here are a few honorable mentions:
- Jeff Spicoli
"Fast Times at Ridgemont High" (1982)
- Floyd
"True Romance" (1993)
- Bob Hughes
"Drugstore Cowboy" (1989)
- Smokey
"Friday" (1995)
- Jeff 'The Dude' Lebowski
"The Big Lebowski" (1998)
#1: Cheech & Chong
"Cheech & Chong" franchise (1978-)
Before there was Jay and Silent Bob or Harold and Kumar, there was Cheech and Chong. The original pot-smoking duo initially gained popularity through their standup routine and Grammy-award winning comedy album. This led to six movies, taking them to Amsterdam, across the U.S. border, and even into outer space. While the age of free love is over, the era's dazed spirit lives on through these icons of the stoner community. To date, Cheech and Chong are still having awesome trips via marijuana, acid, and dog shit.
Do you agree with our list? Who's your favorite movie druggie? For more trippy Top 10s published every day, be sure to subscribe to WatchMojo.com.