Top 10 Al Pacino Performances

Script written by Genevieve Methot. With more than five decades of experience under his belt, he's played every role you can imagine – from the most righteous upholder of the law to the devil himself. Welcome to WatchMojo.com, and today we're counting down our picks for the top 10 Al Pacino performances. Special thanks to our users Jack Morris, Steven Castillo, Matej Srića, SaintRage27, trickedtuba, cary.lee456, Cris Duce, Ali Hamza, and sarahjessicaparkerth for submitting the idea on our Suggest Page at WatchMojo.com/suggest
COMMUNITY
VIDEO SCRIPT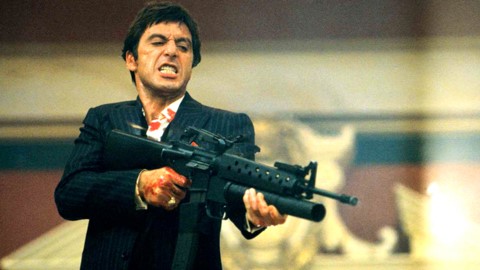 Top 10 Al Pacino Performances
Script written by Genevieve Methot.
With more than five decades of experience under his belt, he's played every role you can imagine – from the most righteous upholder of the law to the devil himself. Welcome to WatchMojo.com, and today we're counting down our picks for the top 10 Al Pacino performances.
#10: Lowell Bergman
"The Insider" (1999)
In this film about a real-life tobacco industry whistleblower, Pacino plays the CBS new producer responsible for helping Russell Crowe's character publicize the industry's nasty little secret. The film was nominated for a slew of awards, and reaped praise for its stellar acting performances – Pacino's included. Intense but not over-the top, he perfectly complements Crowe's riveting Jeffrey Wigand and helps make "The Insider" compelling viewing.
#9: Will Dormer
"Insomnia" (2002)
This Christopher Nolan psychological thriller follows a pair of the LAPD's finest as they travel to an eternally sunlit town in Alaska to investigate a homicide. Things go south when Detective Will Dormer accidentally shoots his partner and attempts to cover it up. Pacino doesn't only deliver a profound portrayal of the ensuing guilt and accompanying insomnia, but he's also forced to deal with a surprisingly creepy Robin Williams, who spends much of the film screwing with his character's head.
#8: Frank Serpico
"Serpico" (1973)
Based on real-life cop Frank Serpico, this crime flick has Pacino playing an honest cop who attempts to single-handedly uncover the corruption in the NYPD. Even though his life is constantly threatened and his colleagues turn against him, it seems he'll do just about anything to triumph over evil – even wearing a ton of fancy hats. Pacino is so enthralling in the role that he won a Golden Globe and earned an Oscar nod.
#7: Lefty Ruggiero
"Donnie Brasco" (1997)
Sliding to the complete opposite end of the spectrum with "Donnie Brasco," Pacino plays the old timer Mafioso who befriends undercover FBI agent Joe Pistone, otherwise known as Donnie Brasco. Duty and friendship butt heads when Brasco realizes that if he comes clean to the mafia, he'll put Lefty's life in danger. Not only does his chemistry with the younger Johnny Depp completely shine through, but Pacino's take on the real-life gangster is also original and authentic.
#6: Vincent Hanna
"Heat" (1995)
The film marketed as Al Pacino's and Robert De Niro's first on-screen performance together is a cat-and-mouse story based on true events. Pacino is an LAPD cop trying to catch a professional thief, while De Niro's thief struggles with his own demons. Aside from being adored critics and fans alike, the crime flick is a classic of the genre – thanks in no small part to Pacino's mesmerizing and moving performance as the obsessive and dedicated Lieutenant Hanna.
#5: Frank Slade
"Scent of a Woman" (1992)
Although this blind Lieutenant Colonel is quite a departure from his other roles, Pacino reminds us he's a diverse artist capable of taking on films outside the cop and gangster genre with "Scent of a Woman." Starting out as rough and borderline unlikeable, Pacino manages to give depth to his character through his journey that makes us empathize with him. After his irascible-yet-likeable ex-Army Ranger was universally celebrated by critics and viewers alike, Pacino finally won his first Oscar for the role after decades of executing top quality performances.
#4: Carlito Brigante
"Carlito's Way" (1993)
Before we start wondering why Pacino is in so many mobster movies, let's not forget he also happens to play a pretty awesome thug. Freshly released from prison on a technicality, Carlito makes it his solemn oath to live an honest life with his ballerina girlfriend. However, his former life soon catches up to him and inevitably reels him back in. This crime drama certainly wouldn't be the same without Pacino's first-rate acting, which has also helped "Carlito's Way" become a cult classic.
#3: Tony Montana
"Scarface" (1983)
This reboot of the 1932 film based on the novel of the same name features Pacino playing the power-hungry Cuban who relocates to Miami in order to live out the American Dream. Yup, it's all cocaine, guns, incest and apple pie. Although the film initially received mixed reviews for its heavy drug use and gratuitous violence, Pacino's turn as the immigrant-turned-drug-lord is the perfect mix of nuanced and over-the-top, making the role undeniably iconic, hypnotic and oh-so-quotable.
#2: Sonny Wortzik
"Dog Day Afternoon" (1975)
On the surface, this movie doesn't really stray from a typical cops-and-robbers story. But within the usual lawlessness and gun-happy brutality prevalent in most Pacino flicks, we find some pretty touchy issues for the time, like anti-establishmentarianism, homosexuality and gender identity. Pacino plays an unlucky man who tries to rob a bank to pay for his pre-op wife's sex change. How's that for breaking from the mold? And, with his crime playing out on live television, Pacino's character grows from a meek thief into a sort of folk hero.
Before we unveil our top pick, here are a few honorable mentions:
- Ricky Roma "Glengarry Glen Ross" (1992)
- Tony D'Amato "Any Given Sunday" (1999)
- John Milton "The Devil's Advocate" (1997)
- Detective Frank Keller "Sea of Love" (1989)
- Jack Kevorkian "You Don't Know Jack" (2010)
#1: Michael Corleone
"The Godfather: Part II" (1974)
Our top pick is Pacino's role in the first sequel to ever win an Oscar for best picture, and a film that transports us through the parallel lives of father and son and the evolution of their mob careers. While he played Michael Corleone in the first and third films, it's Pacino's turn as Vito Corleone's reluctant successor-turned-merciless mob boss in Part II that's really the stuff of movie history. Not only did it earn him an Oscar nomination, but more importantly, it solidified his place as one of the best actors in the business.
Do you agree with our list? Which Pacino performance is your favorite? For more entertaining Top 10s published daily, be sure to subscribe to WatchMojo.com.