Top 10 TV Housekeepers
Written by Lyne Dubeault They may cook, they may even clean, but they definitely keep the television home fires burning. Join WatchMojo.com as we count down our picks for the top 10 TV housekeepers. For this list, we're not limiting our choices to only those household employees who keep the homes clean; anyone who is employed in a domestic role in the home is eligible. However, there will be no butlers on this list, because we've already got a list of the Top 10 Butlers in Films and TV. Special thanks to our users sarahjessicaparkerth, zendaddy621, Christopher Bennett and Jesse Fitzgerald for submitting the idea through our Suggestions Tool at WatchMojo.com/Suggest
COMMUNITY
VIDEO SCRIPT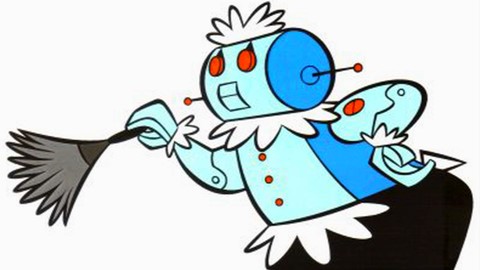 Top 10 TV Housekeepers
Written by Lyne Dubeault
Top 10 TV Housekeepers
They may cook, they may even clean, but they definitely keep the television home fires burning. Welcome to WatchMojo.com, and today we're counting down our picks for the top 10 TV housekeepers.
For this list, we're not limiting our choices to only those household employees who keep the homes clean; anyone who is employed in a domestic role in the home is eligible. However, there will be no butlers on this list, because we've already got a list of the Top 10 Butlers in Films and TV.
#10: Daphne Moon
"Frasier" (1993-2004)
This British beauty, who fancies herself a bit psychic, was hired by Dr. Frasier Crane as a sometimes-housekeeper and always-physical therapist for his elderly father Martin. However, during the series' run, in addition to helping Martin with his exercises, we've seen Daphne cooking, mopping, and doing laundry as well as various other household chores – although her cooking skills apparently leave much to be desired. But more than that, her role expands when she enters a romance with Frasier's smitten brother, Niles, and becomes like a member of the family.
#9: Mrs. Bentina Beakley
"DuckTales" (1987-90)
Hired by the richest duck in the world, Scrooge McDuck, Mrs. Beakley joined his staff as a maid, cook and nanny to his three troublesome but lovable nephews, Huey, Dewey and Louie. With her she brought her granddaughter, Webby Vanderquack, and she spends much of her time trying to keep the rambunctious kids from misbehaving. Overly trusting, easily rattled but in no way a dumb duck, Mrs. Beakley lives a quieter life than her adventurous boss; but she's as kindhearted and dependable a duck as you're ever likely to meet.
#8: Mrs. Phylidia Featherbottom
"Arrested Development" (2003-06; 2013)
She takes care of the Bluth model home; but Mrs. Featherbottom is by no means a maid. Or a woman. Or even real. She's just another persona invented by Tobias Fünke to convince his wife he's got the acting chops to make it. Inspired by Mary Poppins and Mrs. Doubtfire, Mrs. Featherbottom lacks the smarts, charm and warmth of her heroes – often accidentally resorting to inappropriate innuendos. Tobias may think otherwise, but his costume fools no one; they only keep him on is cause he's actually a great housekeeper. Go figure.
#7: Berta
"Two and a Half Men" (2003-)
She's sassy, tough and can handle anything. In short, Berta is the perfect housekeeper for jingle writer-slash-playboy-slash high-functioning alcohol, Charlie Harper. While seeing one of Charlie's countless one-night stands wearing next-to-nothing at the breakfast table would render other people speechless, tough-as-nails Berta takes it in stride and is never slow on delivering the perfect one-liner. This ex-con is so beloved that she was even asked to stay on following Charlie's death. 'Cause, let's face it, this house would collapse without Berta keeping it all together.
#6: Florence Johnston
"The Jeffersons" (1975-85)
This feisty maid spends more time inventing zingers and comebacks than she does doing actual housework. She basically lives to torment her boss, George Jefferson. So, why don't they fire her? Well, she's, uh, we're not really sure. But it probably has to do with the softie Weezy, who considers Florence a member of the family. However, it's Florence's sass and back-and-forths with George that really made her a fan-favorite, boosting her from a recurring role, to a fulltime part and eventually gave her her own (very short-lived) spinoff.
#5: Mrs. Edna Garrett
"Diff'rent Strokes" (1978-86) / "The Facts of Life" (1979-88)
Always more than a maid, Mrs. G was so good she eventually had two jobs – and two shows! She was first employed by the Drummond family to cook, clean and offer motherly advice to Arnold, Willis and Kimberly – and they had a great bond. After about a year of loyal service, she left the Drummonds to become the housemother to Natalie, Blair, Tootie and Jo at the Eastland School for Girls. Part-parent, part-friend, no matter where she was Mrs. G always had the wellbeing of others at heart.
#4: Moira O'Hara
"American Horror Story: Murder House" (2011)
She came with the house…literally. When Moira was killed in the aptly named Murder House, she was doomed to wonder the grounds of the estate and work for whoever owned the house, forevermore. Oh, did we not mention the part about how she was killed for having sex with her boss? That decidedly more racy persona is the form her ghost takes when greeting the men of the house; however, when she appears to her female employers, she's just a harmless old woman.
#3: Tony Micelli
"Who's the Boss?" (1984-92)
We'll admit that Tony isn't exactly the first person we'd picture as a maid. After all, he's a former baseball player. But this devoted dad is not above taking on housework if it means his daughter Samantha can get a better chance at life in idyllic, suburban Connecticut, away from the mean streets of Brooklyn. Plus, Tony's gender-reversed, will-they-or-won't-they relationship with his boss, ad exec and single mother Angela Bower, is the stuff of TV legend. Besides, there's nothing sexier than a man who does windows.
#2: Rosie the Robot
"The Jetsons" (1962-87)
Anyone who's scared of the prospect of computers taking over the world has clearly never met Rosie. Model number XB-500, Rosie is an outdated demo from the U-Rent-A-Maid company; but the Jetson family grew so fond of her almost-human programming that they never bothered to upgrade. Kind, pleasant and helpful, Rosie is a wonderful housekeeper who cooks, clean, launders and just generally keeps the Jetsons' Skypad apartment in tip-top shape. Plus, she's close to every member of the family, particularly Mr. J.
Before we give our top pick a golden feather duster, here are a few honorable mentions:
- Hazel Burke "Hazel" (1961-66)
- Rosario Salazar "Will & Grace" (1998-2006)
- Dorota Kishlovsky "Gossip Girl" (2007-12)
- Sarah O'Brien "Downton Abbey" (2010-)
- Florida Evans "Maude" (1972-78) / "Good Times" (1974-79)
#1: Alice Nelson
"The Brady Bunch" (1969-74)
Housekeeper, cook, nanny, therapist, sass machine: Alice wore many different hats in the Brady household. Most maids would ask for a raise or threaten to quit if their boss got married and brought four extra people into the house – but our girl Alice didn't even bat an eyelash. Smart, witty, self-sufficient and always cool as a cucumber, Alice handled both the Bradys and her romance with a local butcher easily. And she was always available for a sarcastic quip or a piece of friendly advice whenever anyone needed a hand.
Do you agree with our list? Which TV housekeeper is your favorite? For more entertaining Top 10s published every day, be sure to subscribe to WatchMojo.com