Top 10 Buddy Cops on TV

Script written by Jordan Ruimy. Two heads are always better than one. Join WatchMojo.com, and today we're counting down our picks for the top 10 buddy cops on TV. For this list, we picked the best crime-fighting duos on television, who range from brave police officers and talented detectives to private eyes. However, if there are romantic overtones and sexual tension between the pair, we've decided to exclude them, since they're not exactly "buddies," now are they? If you want to suggest an idea for a WatchMojo video, check out our interactive Suggestion Tool at WatchMojo.com/suggest
COMMUNITY
VIDEO SCRIPT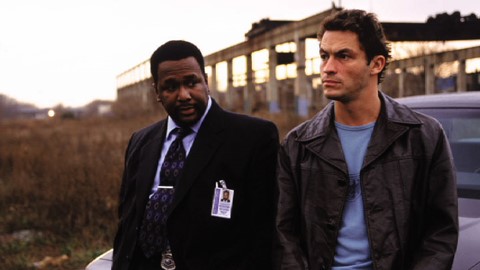 Top 10 Buddy Cops on TV
Written by Joseph Boctor
Top 10 Buddy Cops on TV
Two heads are always better than one. Welcome to WatchMojo.com, and today we're counting down our picks for the top 10 buddy cops on TV.
For this list, we picked the best crime-fighting duos on television, who range from brave police officers and talented detectives to private eyes. However, if there are romantic overtones and sexual tension between the pair, we've decided to exclude them, since they're not exactly "buddies," now are they?
#10: Hank Schrader & Steve Gomez
"Breaking Bad" (2008-13)
As intense as this series got, these two officers were always hard at work finding Albuquerque meth dealers and new ways to crack each other up. Off-color jokes and racist jabs aside, the loyalty, trust and mutual respect between these two DEA agents made them a fearful combination, whether they were interrogating criminals or searching for suspects. When Hank was hurt in the line of duty, Gomie became his right-hand-man, helping him out whenever necessary. Unfortunately, their great teamwork ultimately led to a head-on collision with Heisenberg's criminal empire.
#9: Lennie Briscoe & Rey Curtis
"Law & Order" (1990-2010)
The pairing of a seasoned veteran with an up-and-coming rookie seems to always work, and that was the case on this long-running show. However, it was the younger detective Rey who provided the no-nonsense crackdown on crime, always seeing this in black-and-white and sticking to his morals in the midst of adversity, while the more experienced Lennie liked to crack jokes when faced with law-breaking. Confronted with murder and tricky situations, these two built a relationship that saw them support each other through their own devastating personal tragedies.
#8: Jonathan Baker & Llewelyn Poncherello
"CHiPs" (1977-83)
This light-hearted show brought viewers the funnier side of being part of the California Highway Patrol. It also showcased the sunnier side of cop work, cause this duo always seemed to find a way to pursue the bad guys in a high-speed chase through sunny California – sometimes even out of the blue. In a show brimming with '70s and '80s flair, the even-tempered and straight-edged Jon and the macho and trouble-prone Ponch were constantly put in wacky crime-fighting situations – some more awkward than others.
#7: Rustin Cohle & Martin Hart
"True Detective" (2014-)
Filled with twisted philosophies and grim expectations, this partnership helped us explore the dark criminal side of Louisiana. An odd couple pairing, Rust and Marty complemented each other and were necessary to each other's success]. But let's just say tensions were high between these two… For many reasons. Even so, they And they kept us coming back to the show with those thoughtful monologues that painted a picture bleaker than even the crimes they investigated ever could.
#6: Christine Cagney & Mary Beth Lacey
"Cagney & Lacey" (1982-88)
This duo fought crime, raised important questions and tackled taboo subjects all in one show. Probably TV's first female buddy cops, these hard-nosed policewomen cleaned the streets of crime, and supported each other through thick and thin; however their personalities and situations were diametrically opposed. Whereas Chris Cagney was a sort-of shy, unmarried, career-oriented woman, Mary Beth Lacey was a loud-mouthed, married mother working to help support her family. Because the characters were so relatable, "Cagney & Lacey" earned a loyal audience and a spot on our list.
#5: Nash Bridges & Joe Dominguez
"Nash Bridges" (1996-2001)
With Cheech Marin's Joe Dominguez and Don Johnson's titular crime fighter teaming up to keep the San Francisco streets clean of crime, audiences knew they were getting both quick wit and fast action. With a personal history that established their bond, this partnership felt like two friends seeing each other after a very long time, which translated into easy-going banter. However, we also have to give a shout out to Nash's prized yellow Barracuda convertible, which deserves credit for helping to bust dangerous criminals and psychotic ne'er-do-wells.
#4: Sonny Crockett & Rico Tubbs
"Miami Vice" (1984-89)
With Don Johnson again as half of the crime-fighting pair, this series showcased Miami's seedy underworld, as Crockett and Tubbs went undercover to find drug lords and save lives – however, they didn't exactly get off on the right foot. Blurring the lines between the good guys and the bad, this pair had stylish but rough exteriors. And while Tubbs was the more cynical of the two, both had chips on their shoulders. Blending perfectly with the show's tone, Crocket and Tubbs provided food for thought on the undercover scene.
#3: Jimmy McNulty & Bunk Moreland / Herc Hauk & Ellis Carver
"The Wire" (2002-08)
With the rest of their unit, these four men pushed the Barksdale crew to the edge with their interrogatory tactics and investigation skills. But each has his failings: though Bunk and McNulty are both talented, moral detectives, they're also self-destructive. Herc is unsophisticated and prefers brute force to smart police work, and his partner Ellis is more intelligent and more respectable. With the cartel's operations threatening to destroy Baltimore, these officers did whatever it took to bring down Avon Barksdale and Stringer Bell. Like we said, whatever it took.
#2: Sherlock Holmes & John Watson
"Sherlock" (2010-)
This famous crime-solving partnership jumped from the literary pages into the modern-day with this BBC adaptation. As always, Holmes is a genius, able to deduce information from the smallest clues – but he's arrogant, condescending and difficult to work with. Watson, on the other hand, is kind, empathetic and the polar opposite of his partner. Which is why, when they work together to bring down crooks, they sometimes scuffle. But the more cases they solve, the tighter their bond becomes, with Watson bringing out the humanity in the iconic detective.
Before we reveal our number one pick, here are a few honorable mentions:
- Patrick Jane & Teresa Lisbon "The Mentalist" (2008-)
- Richard Castle & Kate Beckett "Castle" (2009-)
- Neal Caffrey & Peter Burke "White Collar" (2009-)
- Steve McGarrett & Danny Williams "Hawaii Five-O" (1968-80)
- Shawn Spencer & Burton Guster "Psych" (2006-14)
- Joe Friday & Bill Gannon "Dragnet" (1967-1970)
#1: David Michael Starsky & Kenneth Hutchinson
"Starsky & Hutch" (1975-79)
These two may not have invented the buddy cop show, but they perfected the tried-and-true formula, giving viewers the comedy, action, and camaraderie we love about the genre. Like any good buddy cop duo, they sometimes had to break the rules, but they always fought squarely on the side of good. Crime in Southern California was no match for street-smart New York native Starsky and more cerebral, Minnesota transplant Hutch, and that's why this pair earned its place at the pinnacle of police partnerships and our primary pick.
Do you agree with our list? Were there any good old-fashioned team-ups we missed? For more hard-hitting Top 10s published daily, be sure to subscribe to WatchMojo.com.