Top 10 Campfire Songs

Script written by Aaron Cameron. Dig out your six-string and warm up your singing voice. For this list, we've chosen songs that are commonly recognized as tunes that are often played around a campfire, and that are just fun to play when there's company around. Welcome to WatchMojo.com, and today we're counting down our picks for the top 10 campfire songs. Special thanks to our user akt for submitting the idea on our Suggest Page at WatchMojo.com/suggest
COMMUNITY
VIDEO SCRIPT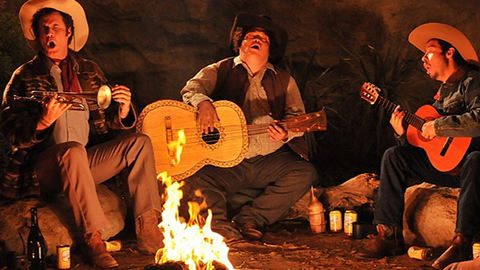 Top 10 Campfire Songs
Script written by Aaron Cameron.
Dig out your six-string and warm up your singing voice. Welcome to WatchMojo.com, and today we're counting down our picks for the top 10 campfire songs.
For this list, we've chosen songs that are commonly recognized as tunes that are often played around a campfire, and that are just fun to play when there's company around.
#10: "Margaritaville" (1977)
Jimmy Buffett
This is one tune that's perfect for campfire strumming. Made of just a handful of basic chords in the welcoming key of D major, the song also has memorable verses and a chorus that anyone can really lay into. As a bonus, even the most tone-deaf of singers can join in the fun to ask where is the salt?! Just remember to bring spare flip-flops and plenty of extension cord for your blender.
#9: "Take Me Home, Country Roads" (1971)
John Denver
It doesn't matter if you've been to West Virginia or not, this song will take you there. Co-written by Bill Danoff and Taffy Nivert, the pair had hoped to sell the song to Johnny Cash before Denver heard it and fell in love with it. The bespectacled singer's first public performance earned him a five-minute ovation, proving the song was meant for him. The song has since been covered countless times in multiple languages and is a hit with guitar strummers everywhere.
#8: "Redemption Song" (1980)
Bob Marley and the Wailers
Owing to its signature opening riff, your fellow campers will know this one from the very first note. A rare acoustic outing that is almost more Bob Dylan than Bob Marley, this stripped-down ballad is notable for being the last song the reggae musician ever performed live. Socially aware and written at a time when Marley knew his time was short, "Redemption Song" continues to resonate with listeners, due to its honesty and message of peace.
#7: "The Weight" (1968)
The Band
Whether you want to sing it straight through or just join in and harmonize on the "and, and, and"s, this one has something for everybody. You can belt it like Levon, mime it like Robbie, or try out your best Rick Danko impression on the "Crazy Chester" verse. Bonus points may be awarded for leaving it in its original key of A. And if you can get the Staple Singers to join you, well, so much the better.
#6: "Sweet Caroline" (1969)
Neil Diamond
Rule of thumb: if it works at karaoke, it'll work in the woods. While this song actually does have verses, two of them as it happens, "Caroline" is all about the chorus, and we do mean all. Recorded by everyone from Frank Sinatra to Waylon Jennings and inexplicably popular with Red Sox fans, this soft rock number just works better with a crowd. It may not have taken Neil Diamond very long to write but as long as you can "ba ba ba" it'll never end.
#5: "This Land Is Your Land" (1945)
Woody Guthrie
As simple as it may sound, this tune is bound to disarm any party fascist with its major chords and sing-along chorus. Written as an attack on "God Bless America," "This Land Is Your Land" was initially named "God Blessed America" by Woody Guthrie. The singer continued to tinker with the wording until finally arriving at the lyrics we know today. The lyrics have also been modified throughout the years by other artists to suit other nations including Canada, Wales, Sweden, and the constructed language Esperanto, which demonstrates its continued relevance.
#4: "Good Riddance (Time of Your Life)" (1997)
Green Day
It may not be punk, but that hardly matters. Start stumbling over this ditty's opening riff and the marshmallow fest can begin. Equally suited to graduations, proms or funerals, this is one song everyone knows all the words to… or at least think they do. As a bonus, following the lyrics of "Good Riddance" as recorded grants you a free f-bomb, and that's always fun. Even non-musicians can join in the good times by miming or humming for the string section.
#3: "Wagon Wheel" (2004)
Old Crow Medicine Show
Built around an unfinished Bob Dylan song, this tune was completed by Old Crow's Ketch Secor, which is a move that really takes some lead in your pencil. Because of its familiar and roots-y appeal, artists like Darius Rucker and Matt Andersen have since endlessly covered "Wagon Wheel." Despite its popularity, it's only possible to really know this song from good times with good friends around the fire and there's nothing wrong with that.
#2: "American Pie" (1971)
Don McLean
As popular now as it was in '71, this folk rocker is sure to be a hit with the s'mores crowd. While this classic may not be too hard to pick up on your git-fiddle, there sure are a lot of words to learn! If you're talking the LP version, there's eight and a half minutes of fire glow poetry, in fact. But if you do find yourself forgetting a line, then rest easy as you can dip into Weird Al's "The Saga Begins" instead. Don McLean himself has been tempted.
Before we unveil our top pick here, are a few honorable mentions:
- "Hotel California" (1977)
Eagles
- "Fire and Rain" (1970)
James Taylor
- "Hey Jude" (1968)
The Beatles
- "Knockin' on Heaven's Door" (1973)
Bob Dylan
- "Horse with No Name" (1972)
America
#1: "House of the Rising Sun" (1964)
The Animals
Yes, just like ghost stories, this song sounds even better in the dark. Built around a few simple chords, this slow tempo belter can be as challenging as you care to make it. Most famously recorded by The Animals, the template for this traditional folk tune was set by singer Georgia Turner in the 1930s and it has since been covered by a range of artists as diverse as Woody Guthrie, Lead Belly, Andy Griffith, and Dolly Parton – so there are plenty of versions for you to draw inspiration from when you're getting cozy around the flames.
Do you agree with our list? What's your favourite song to sing around a campfire? For more toasty Top 10s published daily, be sure to subscribe to WatchMojo.com.