Elton John Biography - Life and Career (REDUX)
Born March 25th, 1947, Reginald Kenneth Dwight was a child prodigy at the piano. He eventually joined the band Bluesology, but he wanted more. He auditioned for other bands, and this was how he met lyricist Bernie Taupin. Soon, under the name Elton John, this artist shot to the top of the charts with successful singles like "Your Song," and even made his mark in America. But Elton John was naturally shy, and so to deal with his hectic schedule and flamboyant public persona, he turned to drugs and alcohol as solace. But he overcame his demons and today is considered one of the most successful recording artists in history. In this video, WatchMojo.com takes a look at the life and career of Elton John. Special thanks to our user Opst3r for submitting the idea on our Suggestions Page at WatchMojo.com/suggest
COMMUNITY
VIDEO SCRIPT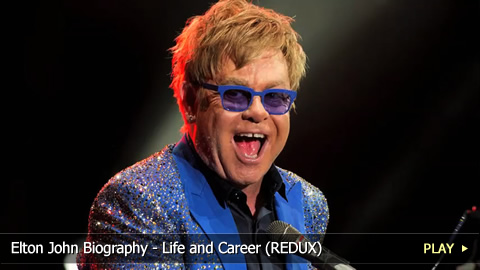 Elton John Biography - Life and Career (REDUX)
Elton John Biography - Life and Career (REDUX)
He is Captain Fantastic. Welcome to WatchMojo.com, and today we're taking a look at the life and career of Elton John.
Early Years
Reginald Kenneth Dwight was born March 25th, 1947 in a London suburb. This child prodigy began playing piano at age four, and received a Royal Academy of Music scholarship at 11. Within four years, he was covering songs at local pubs.
Bluesology
His parents encouraged him to follow a traditional career path. But he left school at 17 to pursue music, and join Bluesology. With them, he backed musical greats like The Isley Brothers and Patti LaBelle and The Bluebelles.
Meeting Bernie Taupin
Meanwhile, Dwight sought work elsewhere. On an audition in 1967, he was introduced to lyricist Bernie Taupin, and the two began writing songs for other artists through the mail. Six months later, Reggie Dwight adopted the name that honored his idols Elton Dean and Long John Baldry.
"Your Song"
By mid-1968, Elton John was recording his and Taupin's music. The 1969 album
Empty Sky
fizzled, but the next year he had a hit with his self-titled album, mainly due to the single "Your Song."
Style
John's music meshed influences and styles, but his vocal twang implied inspiration by Southern American rock. He bridged the gap between traditional pop artists and reflective singer-songwriters. John/Taupin compositions were rarely introspective in content, but they successfully blended electric guitar with Elton John's trademark piano.
Coming to America
In August 1970, John introduced himself to American audiences at Los Angeles' Troubadour club. He built momentum, and earned significant radio airplay, with the western-flavored
Tumbleweed Connection
, as well as the live, gospel and boogie-woogie-inspired
11-17-70
.
First Successes
Next was 1971's top ten album
Madman Across the Water
. But the following year, he really became a household name:
Honky Chateau
was his first of seven straight U.S. chart-topping albums. Less than a year later,
Don't Shoot Me I'm Only the Piano Player
produced two more popular tracks.
Goodbye Yellow Brick Road
1973's rock-and-roll classic
Goodbye Yellow Brick Road
eventually went seven times platinum in the U.S., and produced four singles, including one number one. Elton John's place at the top of the rock food chain was secured.
Collab with John Lennon
John's success stemmed from the fact he was considered the first original act to emerge after the breakup of The Beatles. He even collaborated with former Beatle John Lennon in 1974 on "Whatever Gets You Thru the Night."
"Don't Let the Sun Go Down on Me"
1974 also saw the release of the hastily produced
Caribou
. Despite shortcomings, singles like "Don't Let the Sun Go Down on Me" shot it to number one.
Captain Fantastic
In 1975, Elton John appeared with other huge rock acts in the film adaptation of The Who's rock opera "Tommy." He also released
Captain Fantastic and the Brown Dirty Cowboy
, which recalled the struggles John and Taupin suffered during their early career. It was the first album ever to debut at number one.
The stand-alone single "Philadelphia Freedom" about his friend tennis great Billie Jean King also came in 1975. When he played the song on
Soul Train
that year, he became one of the few white performers to appear on the show. By this point, John was established as a preeminent and stylish showman. Soon his on-stage costumes became increasingly flamboyant and wacky.
Change in Direction
Following Captain Fantastic, John dismantled his longtime band ahead of his next album.
Rock of the Westies
also debuted at the top of Billboard, and yielded the number one "Island Girl."
The live record
Here and There
arrived in 1976, as did his eleventh studio album
Blue Moves
. That effort focused less on rock and spawned the mature single "Sorry Seems to Be the Hardest Word," as well as several concert favorites. But his upbeat duet with Kiki Dee was the year's biggest victory.
Sexuality
He kept busy by becoming involved with the Watford Football Club. He capped off 1976 by maintaining a relentless touring schedule, and by famously admitting his bisexuality in a controversial
Rolling Stone
interview.
Personal Demons
However, the stress of his busy schedule and public persona strained the naturally shy musician: John struggled with bulimia and became increasingly dependent on drugs and alcohol.
During the first part of his career, Elton John went from child prodigy to one of the world's biggest entertainers. Of course, there was much more to come.
Career Slow Down
Frazzled and burnt out from drug abuse and a hectic touring schedule, Elton John retired from live concerts in 1977, and began releasing only one album annually. He also turned to lyricists other than Bernie Taupin, and issued some relatively forgettable albums.
But soon, John made his performing comeback by becoming one of the first western artists to tour the Soviet Union. He also reunited with the original Elton John Band for a huge free concert in Central Park in September 1980.
Too Low for Zero
Two years later, he released
Jump Up!
, which included the John Lennon tribute "Empty Garden (Hey Hey Johnny.)" 1983's
Too Low for Zero
marked the permanent return of Taupin on lyrics, and was another hit.
John started another partnership in 1984: he married sound engineer Renate Blauel. Of the albums released during this period, all had charting singles, most notably 1985's "Nikita."
That year also had John team up with other stars to raise funds for the American Foundation for AIDS Research with the hit single "That's What Friends Are For," and he won a Grammy for his trouble.
Throat Surgery
However, he soon got a wake-up call: his ongoing smoking and drug abuse caused so much damage, he required throat surgery in early 1987 that left his voice forever changed.
Reg Strikes Back
The last few albums of the '80s pleased fans, but only 1988's
Reg Strikes Back
charted in the U.S. top 20. To support that record, he filled Madison Square Garden for five shows.
Quitting Drugs and Alcohol
1988 included another defining moment for John: he symbolically sold his old costumes at auction, and began combating his demons. By 1990, he quit drugs and alcohol.
Sleeping with the Past
Meanwhile, 1989's
Sleeping with the Past
kept the singles coming. In 1991, a live duet with George Michael of his already-huge song "Don't Let the Sun Go Down on Me" came out, and was eventually featured on the album
Duets
along with other Elton John musical match-ups.
The One
1992's
The One
proved Elton John was still relevant. That year, he also established the Elton John AIDS Foundation after losing friends Freddy Mercury and Ryan White to the disease, and began donating all proceeds from his single sales to the cause.
"The Lion King"
However, 1994 marked his true comeback: he was inducted into the Rock and Roll Hall of Fame, and teamed up with Tim Rice to pen the soundtrack to Disney's "The Lion King." Of the film's several hit songs, "Can You Feel the Love Tonight" earned John both a Grammy and an Oscar.
"Candle in the Wind '97"
In 1995, he paid tribute to his roots with
Made in England
, and released
Love Songs
the next year.
The Big Picture
hit stores in 1997, just months after John lost his friends Gianni Versace and Princess Diana. He performed a reworked version of "Candle in the Wind" in moving tribute to Lady Di at the funeral, and this song became his biggest hit ever. It also won him another Grammy.
Sir Elton
Elton John then transitioned to theatre by adapting
The Lion King
into a stage show in 1997, and by penning the Tony and Grammy Award-winning
Aida
with Tim Rice the following year. 1998 also saw John knighted by Queen Elizabeth II.
Recent Life
Between releasing albums, pioneering
Billy Elliott the Musical
, and tackling Las Vegas stage shows, Elton John stayed busy. In 2005, he entered a civil union with his longtime partner David Furnish, and the couple later had baby Zachary Jackson Levon Furnish-John via a surrogate.
John also toured with fellow piano man Billy Joel, performed with Lady Gaga, lent his music to the soundtrack of "Gnomeo & Juliet" and collaborated with Leon Russell on 2010's
The Union
.
Legacy
Elton John has boasted over 50 hit songs through his career, and has sold over 250 million albums, making him one of history's most successful musicians. He's known for his outspoken diva personality, eccentric costumes and blend of varied influences; but it's his genius as a pianist, songwriter and vocalist that keeps this bitch coming back.
For more musical bios and top 10s published every day, be sure to subscribe to WatchMojo.com.