Top 10 Continuous Uninterrupted Shots In Movies

There has been countless examples of impressive filmmaking. Despite expensive special effects or tricks, it's the filmmaker's ability to keep shooting the action without any mistakes that is the most jaw dropping. Just to be clear, we're focusing in on the incredible and well-executed scenes from film that are done in one uninterrupted shot, as in not a single cut took place. Well, as far as we can tell. Join WatchMojo.com as we count down the top 10 continuous movie scenes.
RELATED TAGS
COMMUNITY
VIDEO SCRIPT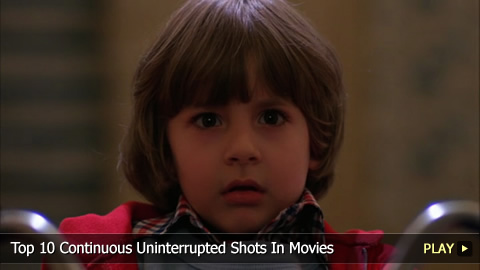 Top 10 Continuous Uninterrupted Shots In Movies
Top 10 Continuous Movie Scenes
Just imagine not being able to make a single mistake. Welcome to WatchMojo.com and today we'll be counting down the top 10 continuous movie scenes.
Just to be clear, we're focusing in on the incredible and well-executed scenes from film that are done in one uninterrupted shot, as in not a single cut took place. Well, as far as we can tell.
#10: Tricycle "The Shining" (1980)
Getting things moving are the two uninterrupted steady shots from Stanley Kubrick's horror masterpiece that follow Danny as he explores the vast empty spaces of the Overlook Hotel. Building a sense of suspense, the lack of cuts worked to instill a sense of dread that the next corner could hold something terrifying, not to the feeling that he's being followed. The atmosphere is punctuated by the sound of the big-wheel trike as it rolls from bare floors to carpet.
#9: Hallway Scuffle "Old Boy" (2003)
In this original adaptation of the South Korean mystery thriller, the story follows a man who has been locked up in a hotel room for 15 years without knowing why. When his search for answers leads to a confrontation against a mob in a hallway, the camera takes a profile view of the agonizing one against many brawl, until finally and painstakingly reaching it's climax.
#8: Nightclub and Double Murder "Boogie Nights" (1997)
This statement making technique was attempted by director Paul Thomas Anderson's team for the very first shot! Depicting the nightlife of the 70s, this 3 minute scene worked to introduce us to Burt Reynolds' porn director as he enters the club, before following the owner working the floor and connecting back to Reynolds and his soon to be star Mark Wahlberg.
Think that's a crazy cinematic feat of timing and cues? Check out the film's second attempt as it follows William H. Macy on New Year's Eve as he navigates a house party to find his cheating wife before snapping and going for a double murder and a suicide.
#7: Staircase Fight "The Protector" A.K.A "Tom Yung Gong" (2005)
Action scenes are tricky enough, but imagine having a prolonged action sequence take the fight up a series of staircases without being able to make a single mistake! Here Tony Jaa takes on countless stunt actors in search of his stolen baby elephants! This scene is so intense we can't help but feel for even the cameraman whose is struggling to keep up and on time! We'll take this over shaky cam any day.
#6: Car Attack "Children of Men" (2006)
Easily the most memorable scene from this dystopian flick, this all in one scene featured an attack on a moving car carrying the film's protagonist. Created with a specially designed car-mounted camera rig capable of 360-degree movements, the ambush shot in one take creates a tense scene that makes the viewer feel like passengers in the car themselves. Incredibly, the take took 12 days to stage and execute, and only the last take was used, which was almost interrupted by the director. Thankfully the crew ignored his call to cut the scene when blood hit the lens!
#5: Hospital Shootout "Hard Boiled" (1992)
Thanks to the choreographic efforts of action director John Woo, this is considered one of the best action sequences ever filmed. In it, two cops take two floors of a hospital packed with baddies in only one take. That's a whole lot of gunplay, special effects and timing involved, all to take us from the hallway to the elevator and up to a completely different floor. If there's any cheat, it's the use of through slo-mo to help us catch our breath. Videogames can only aspire to be this frantic and well organized! What's most impressive is that it was all accomplished in a single take…
#4: The Copacabana "Goodfellas" (1990)
Considered one of the most famous long continuous shots ever, is this one is from Martin Scorsese's crime classic. A scene called the "Copa Sequence", cinematographer Michael Ballhaus painstakingly followed Ray Liota and Lorraine Bracco into the legendary nightclub, from the backdoor all the way to their seats. This one is reported to have taken eight takes to nail, and effectivelyt depicts the level of power and access the crime world can open up.
#3: The Bomb "Touch of Evil" (1958)
Talk about an explosive opening scene that blew audiences away in more then one way! This shot from the Orson Wells' film noir classic is considered one of the greatest examples of an uninterrupted shot in cinematic history. As it follows a car planted with a bomb, it not only introduced the protagonist, but demonstrated that there are more then one way to tell a story and create a sense of fluid storytelling.
#2: Real-Time "Rope" (1948)
Next up is this Alfred Hitchcock masterpiece, the first of his films in Technicolor, one that was ambitious enough to take place in real time! This was accomplished by having it made up completely from long 8-10 minute takes. With a story centered on two killers having strangled a classmate, the tense thriller focused on them having hid the body in their apartment and invited over friends and family to see just how good of a job they did...
Before we unveil our top pick, here are a few honorable mentions.
Snake Eyes
The Player
Weekend
I Am Cuba
#1: Entire Film "Russian Ark" (2002)
We now cut to the greatest example of non-interrupted filmmaking! There is no standout scene here, rather the entire 96 minute historical drama was shot without the camera ever cutting! That's right, it was crafted with the use of a Steadycam navigating 33 rooms of the Winter Palace of the Russian State Hermitage Museum. Centered on a ghost drifting through the location, his journey takes us on a guided tour through history. In total, it took three takes to accomplish, while being limited by the 100-minute hard drive they were capturing on! The cheat here is that the sound was modified after the fact, as allowed for some degree of error and to edit out the crew's cursing.
Agree with our list? Which continuous movie scene impressed you the most? For more entertaining top 10s published daily, be sure to subscribe to WatchMojo.com.